I really wanted to write this blog entry when I was on the plane, because I was completely crazy with rage and Korea/Asiana Airlines, as I thought it would be funny to reread in the future, but I was too tired/sick to stand up and take the laptop out of the overhead locker - it's a hard life!
I'm now back in the UK, but the flight home was a nightmare! No real delays (about 40 mins) but it was just like a cross section of Korea amplified in a tiny, claustrophobic space! I was hoping that I would get some seats to myself as the plane seemed quite empty on the online seat selector, unfortunately, I was very wrong! Two massive tour groups of Koreans barged onto the plane and guess who was sat in the middle of them all - that's right 'Lucky Katherine'!! I really have to get some new Karma or something!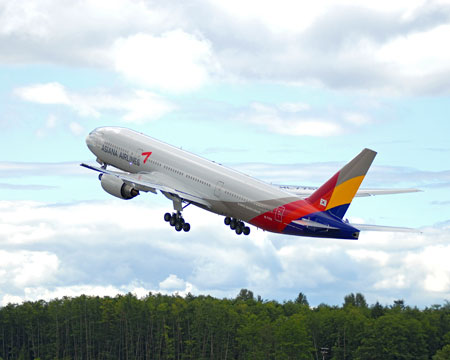 Asiana = EVIL!!
As soon as I got on the plane, some Korean woman was sat in my seat - apparently mixing up the letters 'H' and 'G' as you do! After I got her to move, so I could sit in MY seat, she spent the whole 12 hour journey glaring at me and gurning in her Korean way! Obviously, I was a total criminal wanting to sit in my own seat, so she wanted to punish me at length, in addition to that I committed the crime of being white, shock HORROR! (Asiana is a shitty Korean airline and there were about 3 other white people on the whole plane). This woman was part of the big tour group so she got all her mates glaring at me and talking about me the whole time! The couple sat next to me were particular annoying ( I assumed this was because they were sat next to me, their annoyingness was amplified as they were literally sitting ON me at some stages of the flight! The woman kept hitting me on the arm, standing on me, and talking to me in Korean when I was trying to sleep! The woman behind me kept standing up and moving around (Koreans cannot sit still on transport!!) and pulling my hair and hitting me on the head when she stood up! The tour leader AND flight attendants seemed to think it was perfectly fine to stick their heads in front of me when I was trying to watch TV and talk to the annoying couple and the bloke in front of me kept trying to suffocate me by squashing me!!!
In addition to these darling people, I had to put up with the usual Stinky Korean food that actually made me physically sick at one point, and the world's worst on flight 'entertainment'. Never again!! This airline was awarded the top airline industry award and god knows how - maybe they were all sleeping with the judges, I can't think of any other reasons!!!
gross!!
Luckily, I am flying back on the actual World Class KLM airlines, and vow never to travel Korea again!!! Now I am back home and massively jetlagged, but got the best hug ever off my best twin so it's all good - I hope this week lasts for a very long time!!
HUGS!!